Hire Dedicated Full Stack Developers At Your Flexibility
For business-centric front-end and back-end development, connect with our proficient Full stack developers.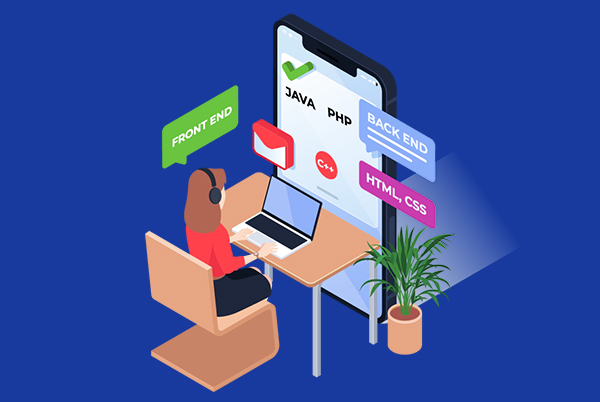 Stack Developer
Going post-to-pillar for a complete IT solution bothers every entrepreneur. Hire full stack developers who know the technology inside out and provide the best full stack development services to enterprises.
Hire MEAN Stack Developer
Hire MERN Stack Developer
Hire Full Stack Developer
Hire dedicated Stack Developers for advanced services including web and mobile apps, web portals, SaaS solutions. Also, our pocket-friendly prices attract many startups and SMBs.
Our Full Stack front-end and back-end developers have 5+ years of experience that helps them to write optimized code and build a user-engaging, lead-converting, and appealing application. And, we have a proven track record of delivering projects on time by comprehending appropriate stages of software development that involve PHP development, MEAN Stack development, MERN Stack development, HTML/CSS, mobility, Full Stack JavaScript technologies, middleware, back-end languages, databases, and web storage.
Our most trusted senior Full Stack engineers can build your desired product 2x faster with the help of top programming languages like Ruby on Rails, SQLite, React, LEMP - Linux, Nginx, MySQL, Flutter, Apache, Angular, Node, PHP, etc. We have assisted numerous businesses to raise their business scales and boost revenue by offering robust end-to-end Full Stack development services.
Stack Development Technologies
Our Top-grade Full-Stack Developers Tech Stack
Get cost-effective solutions from our stack developers who are highly qualified, full-time, and in-house employees.
Hire MEAN Stack Developers
Build future-ready web Apps with our Full Stack MEAN developers who are highly experienced in MongoDB, ExpressJS, Angular, and NodeJS.
Hire MERN Developers
Hire MERN Stack developers to design monolithic, multitier, and microservice architecture of applications that performs well.
React + React Native + MongoDB
Hire React experts who can code both React web Apps and React Native-based hybrid mobile Apps with on-demand scalability.
Android + Flutter
We have Full Stack Android developers on board who can also work with Flutter for developing cross-platform mobile apps.
Java + JS (React/Angular) + Firebase
Hire our Full Stack specialists who can work with core Java, J2EE, Spring, Angular, React & Firebase to get the desired output.
.NET + Angular
Hire .NET developers who can design, develop, deploy, integrate and handle front-end development with Angular.
Flexible Models for Hiring Stack Developers
Flexible models to hire frontend programmers based on your business requirements and budget. Get a dedicated team of expert frontend developers to work exclusively on your project.
eDelta Enterprise Solutions
Managed Team
With our unique hire managed team services, we will take care of all your project needs with a dedicated development team & manager. We take full responsibility for app development needs to complement your core business goals.
Client
Managed Team
Our team of experienced mobile app developers will work with your in-house team or project managers. Our talent pool will provide complete offshore development support, ensuring high quality and cost-efficiency.
Hybrid
Model
The hybrid model provides the benefits of different models such as deploying your team on-site and the other section works from offshore development centers. It effectively combines the best of both hiring models to give you agility and flexibility.